Interview: Mojo Juju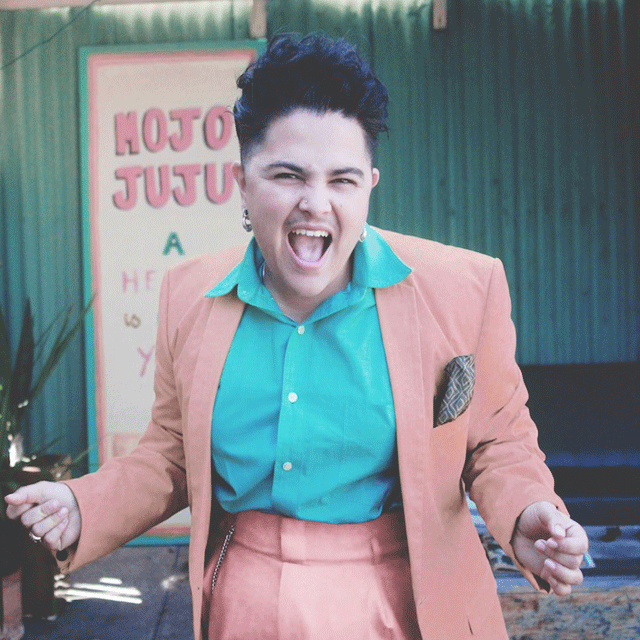 Described as "the kind of music that could make a bishop kick a hole in a stained glass window", Mojo Juju is the brazen troubadour musician we can't stop playing. Gutsy, a little cheeky and brimming with character, she's a rollicking storyteller and an entirely engaging listen. We chat defying genres, comfort zones and the do-or-die nature of music with the Melbournian powerhouse ahead of her WOMADelaide appearance.
-
BNKR: Can you tell us how you got started? Mojo Juju: That's a long story – I've always been pretty involved in music, it's always been a part of my life. I grew up in a very musical family and started playing instruments from a very young age and was pretty determined that that's what I wanted to do. And I don't think I really considered very much else – it was do or die. It was something that I had to do and a maybe a bit of a compulsion. But I just sort of did it until I could make a living doing it, I guess.
What was the first instrument you picked up? I guess the first instrument that I first sort of consciously learnt – took lessons in – was piano. I think that's a really great instrument to start with, and I probably wish that I'd pursued it a bit more...I think I gave that up pretty quick because I really wanted to play saxophone and I couldn't get my hands on one, so I learnt the clarinet - that was probably the first serious instrument that I looked at.
But then I realised I could sing, and I couldn't do that while I was playing the clarinet, so I decided guitar was a pretty good option. I learnt guitar for years, and I realised that the voice requires just as much practice and thought and fine tuning, so then I studied singing for about six years in high school. And now I guess I'm a jack of all trades, master of none.
How is it playing music with your brother, 'T-Bone'? Well we call him Steve. [laughs] It's great, I love playing with my brother, he's a very talented musician as well as I guess, somebody who is all forgiving. We're related so he cant really quit the band, which is a really nice trait to have in a musician. And I can't really fire him either, so we actually get on really well and it's nice travelling with someone – I guess you have that deeper understanding of innate – like I can tell when he's in a bad mood, he can tell when I'm in a bad mood or when I'm tired – you don't have to communicate all of those things, it's just kind of understood and you give each other space. Which is a really important thing when you're living in one another's pockets for a long period of time.
For someone who's never heard your music, what would you say your sound is like? I would try and avoid explaining it, and I would just ask them to listen to it. [laughs] Which is a bit of a cop out I guess, but for me I just don't think genre is an appropriate definition of what I do. I think there's so many genres of music that I've sort of touched on, and maybe drawn inspiration from, but I'm not really interested in doing any one thing exclusively or confining myself to any kind of parameters of a genre.
On that, do you feel your musical influences have progressed over the years, as you've progressed as an artist? Definitely, you know, and I also revisit things that I've already enjoyed in the past. It's sort of forever changing and growing and it's sort of whatever is speaking to me at that time in particular.
Storytelling is a key element of your work, and part of what makes your sound so rich and so lush and lovely to listen to – how do you begin the songwriting process? Every time I make an album it's sort of a different process for me, and at the moment I guess my sound is sort of evolving at a more rapid rate than it has in the past, and  I think I'm feeling pretty experimental at the moment. For me I guess, right now a lot of it starts with the beat, programming something.
Because these days I sort of write a lot, programming stuff on the computer, which is pretty far from the first solo album I made, or anything I did previously. The last album that I made, the one that came out last year, that was very much a sort of stepping stone to where I'm at right now...in the past I used to write a lot on the guitar, and then my first solo album I decided I had too many habits on the guitar, too many comfortable places that I didn't want to go, so I started writing on the piano because it's an instrument I didn't feel as comfortable with. And I guess that's a really important thing for me, to not feel too comfortable when I'm writing - because it's a dangerous thing. I think it can limit your creativity.
So let's move on to WOMAD – who are you looking forward to catching? I'm actually really really looking forward to seeing De La Soul – I know they've come out here every now and then but I've never caught them before so I'm pretty excited about that. I'm actually a bit of a hip-hop lover…I'm also really looking forward to see Calexico, they're super cool and again I haven't seen them even though they've been out before, so there's two really very vastly different artists, but that sort of sums up how broad the spectrum is - which is nice, one of the good things about WOMAD.
That's one of the great things about WOMAD, that you can catch so many great acts on the day just by walking across the same field. It's my first time at WOMAD and I've been thinking about it for years and years and years, but it always seems to be at the same time as something else that I'm doing. And I think that's a thing as a musician, you miss out on a lot if you're not playing at the festival, or you get caught up doing something else – so we're pretty excited; our whole band is stoked about coming to WOMAD.
So you've been to Adelaide before? Of course! Adelaide is one of my favourite places to play.
Are you planning anything else while you're here? I think I'm just going to take in as much of WOMAD as I can. I do love Adelaide, and I think during festival time, in particular Adelaide is a really special place to be. I've done a bit of exploring, I think this time around I just want to get the full WOMAD experience.
You were saying you were getting a bit more experimental with your writing - can fans expect any new tracks from you during the festival? Yeah! I don't want to give too much away just yet, but I think we'll chuck in one or two just to keep it fresh.
F A S T   Q S
Where do you imagine people listening to your records? In bed? [laughs]
The best thing about going on tour? You get to visit all those friends you've made on the road, and I think meet new people all the time – that's always pretty fun.
The worst thing? Being perpetually exhausted. You know, having too much fun can lead to feeling the consequences of too much fun.
Who would play the soundtrack to your life? I don't know if I would pick one band, but I feel like Quentin Tarantino is probably somebody who could put together that soundtrack, he always puts together really great music for his films.
Do you have anything you take on tour to reminds you of home? I don't know – that's a good question! I don't know if I do, but I think I will from now on. I'll find something.
If you weren't a musician, what would you be? I think I'd like to have a really old fashioned trade, you know, like be a barber or a cobbler – something like that. Just sort of tinkering away in my own little space – I think that would be a nice existence.
Mojo Juju is playing WOMADelaide on Saturday 12 March – get tickets here. mojojuju.net
Words: Lucy Ahern