The Naked + Infamous - Met Gala Fashion Through The Ages
The Met Gala is one of the most exclusive and status rearing events in the fashion season. It's a spectacular evening that shows off the crème de la crème of elite fashion houses and powerhouse celebrities of the moment. The event kicks off with a cocktail hour, a moment for the guests to float along the Met steps, while photographers snap them in narcissistic poses for us mere mortals to gape at in our sweats. After this initial façade, guests are ushered and seated into the dining area to enjoy a night of entertainment and to enjoy the exhibition.
The event is ultra fabulous and in some ways enigmatic because, despite the small generic details known to the public, much of the planning of the night is kept tight-lipped. What we do know is that it takes place on the first Monday of May to raise money for The Costume Institute Gala. It showcases an exhibition in collaboration with its yearly theme, which this year honours Commes Des Garcons: Art of the In-Between.
There have been many historically memorable moments, and we've compiled a list of some of the most fashionable and most senseless.
1974 'The Bold And The Naked'
The naked dress has probably become the most overdone dress in the past three years; it no longer has that shock value elegance anymore, and is instead cliché and straight up boring. But when Cher wore that iconic naked dress at the 1974 Met Gala, it was unforgettable. It was everything you want from a dress like that: dramatic, outspoken, controversial and image defining.
1979 'Making History'
Jacqueline Kennedy Onassis' presence at this Met Gala in ravishing Valentino couture is one of the Met's most revered moments – not just because of her stature but because of how divine and historical the attendance was.
1994 'A New Era'
This was the year Anna Wintour was appointed head chair of the Met Gala and rejuvenated it into the grand event we know it as today. Every year co-chairs accompany her and this year Katy Perry, Pharrell, Gisele Bundchen and Tom Brady will join her.
1996 'J'Adore Diana'
Wherever Princess Diana went there was fan fare and editors going crazy, because the next day she was going to be their cover star. That night her Dior dress and her famous choker cemented those images into the history books.
1999 'Rock Royalty'
For such a glamorous and formal event Liv Tyler's and Stella McCartney's archetypal 2000s and casually twinning outfits were a bit out of place – although looking back they were hilarious and kinda perfect.
2006 'Parker + McQueen'
It was 2006, the theme was Anglomania: Tradition and Transgression in British Fashion, Sex and the City was in its second season and Alexander McQueen was becoming a household name. Then came one of the most iconic style moments of any Met Gala ever – SJP wearing a tulle and lace embellished ballet dress, draped with traditional highland plaid and McQueen in what can only be described as a modernised Scottish kilt/suit hybrid. It was dramatic, traditional, everything you didn't know you wanted and ultimately, quintessentially British.
2013 'Kims Fashion Cotillion'
The theme was punk and Kim wore your grandma's couch. If there was ever a more defining moment at the Met Gala it was this one, Kim had just married Kanye, North was on her way and in a few months, the three of them would cover Vogue's September issue. It has been well documented how much Kim wanted to be accepted by the fashion industry, and this was essentially her coming out, the cover solidifying her status as a fashion industry favorite.
2014 'Keeping It In The Family'
'Of course sometimes shit go down, when it's a billion dollars on an elevator'- Beyoncé
I don't think it can be put better than by Beyoncé herself what happened in that elevator. Although, the actual details have never been released, if you consider Lemonade a literal expose revealing Jay Z's extramarital rendezvous, we may know exactly why Solange ripped into him in that elevator security video. This incident has probably gone down as the most iconic feud to take place at the Met Gala, and surely someone got fired over this leak.
2015 'Self Anarchy'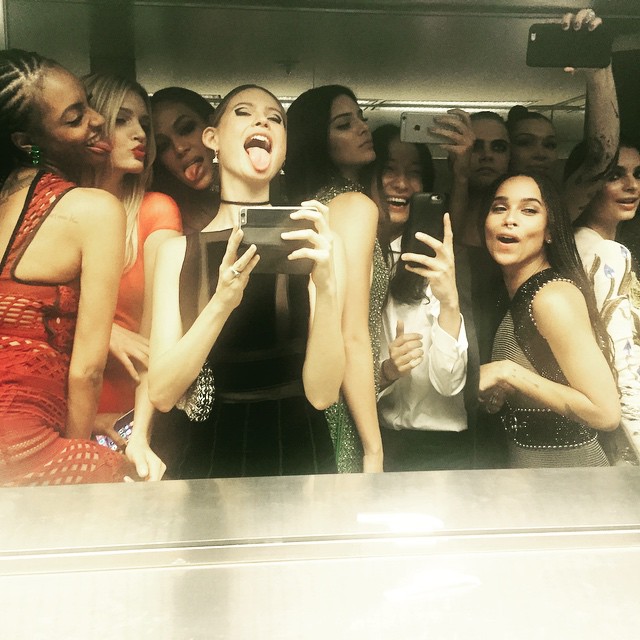 In 2015 a documentary was getting made about the Met Gala called The First Monday in May, and to maintain a certain mystery for the film, Anna Wintour banned selfies. In the time of Instagram, Snapchat and bathroom selfies, no one listened and we got spoiled with contraband selfies.
2015 'Rihanna'
There are few moments when someone wears a dress in Hollywood and you instantly know you are witnessing a defining moment, Rihanna at the Met Gala in that Guo Pei couture dress was time-stopping, moving and instantly unforgettable.
2016 'Madonna'
Now on to another provocative diva. Flash forward to 2016, a time where nothing is shocking; the theme was Manus X Machina: Fashion in the Age of Technology, and Madonna being Madonna doesn't do theme. She controversially wore a lacy S&M-inspired concoction with carefully placed black tape over her nipples and baring all in her thong. The media had a field day mocking the star and Madonna retaliated, shading them for sexist and ageist comments. In her defense, if you are going to be 'extra', may as well do it at the Met Gala.
Words: Faye Couros